With people staying inside for at least the next several weeks under "shelter-in-place" orders, most meals are being cooked at home. Rather than snacking on convenience foods that are low in nutrients, enjoy familiar comfort foods or explore new flavors that will make mealtime both delicious and healthy. Check out our list of flavorful dishes fit for a popular restaurant but easy enough for any at-home cook!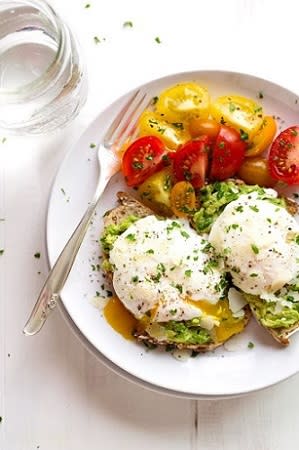 1. Poached Egg & Avocado Toast
Eggs and toast are traditional breakfast staples. With a focus on whole, nutritious foods that are low in refined sugar, Pinch of Yum's poached egg and avocado toast elevates these morning classics with its velvety texture and the "good" fats from the addition of avocado.

Push the sugary cereals, waffles, and pancakes aside and avoid midmorning energy dips. Made with just a handful of quality ingredients, this simple recipe only takes 10 minutes from start to finish and is perfect for even the busiest of morning schedules.

The layers of toasted whole-grain bread, smashed avocado, drippy egg yolk, and creamy egg white will brighten the start of any day.

Never poached an egg before? Watch Pinch of Yum's step-by-step video here for tips on mastering the poached egg. Serving this protein-packed dish is sure to impress any brunch lover!
*Image courtesy of PinchofYum.com. 




​2. Lemon Garlic Salmon
Looking for a tasty salmon recipe that won't leave you with dried out fish? Rachel Farnsworth of The Stay at Home Chef has perfected a healthy lemon garlic salmon recipe that will be an appetizing addition to your dinnertime rotation.

Requiring only seven ingredients, a skillet, and 15 minutes total prep and cook time, this meal is ideal for those with a hectic schedule or the novice home cook. Rachel offers several tricks for ensuring salmon maintains a restaurant-quality texture and explains what to look for when purchasing fresh fish.

This main dish, which can be paired with roasted veggies, is dense in nutrients, proteins, and essential omega-3 fatty acids. Omega-3s are vital in preventing and managing heart disease, lowering blood pressure, and reducing triglycerides, which can contribute to an unhealthy amount of body fat. Nourish your body with this savory and satisfying dish!
*Image courtesy of Thestayathomechef.com. 
3. Shortcut Chicken Chili



This time of year, as winter eases into spring, you can still feel a slight chill in the air. That nip in the air calls for a hearty chili recipe. Shortcut chicken chili by Food Network is comfort food at its simplest!

Throw your ingredients and spices into a pot or Dutch oven for an effortless meal ready in half an hour. Get kids involved by measuring and adding ingredients for an at-home math lesson while dinner is simmering.

Wholesome and filling ingredients, like onions, peppers, sweet potatoes, beans, and chicken, meld with a variety of spices to create a nourishing meal. Top with tortilla chips, a sprinkling of cheese, or scallions for added flavor and texture.

*Image courtesy of FoodNetwork.com.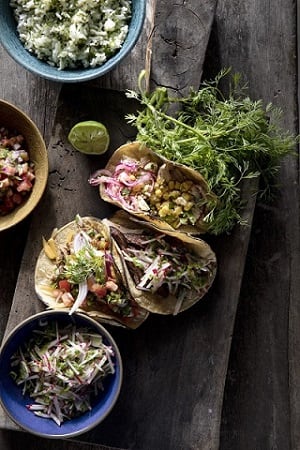 ​​​​​​​4. Street Tacos
Who doesn't love Taco Tuesday? Eating at home is no reason to miss out on this well-loved weekly meal. These street tacos from the Magnolia Table, Volume 2 cookbook satisfy everyone's cravings for flavorful tacos.

Choose from chicken, steak, or pulled pork options — whatever is in your fridge or freezer! Follow Magnolia's recommendations for spicing and cooking each of the proteins, as well as the many toppings you can pair with them: corn, cotija cheese, red onion, cilantro, radishes, fresh lime juice, and salsa.

Substitute beans or sweet potatoes for the meat for a plant-based option!

*Image courtesy of the Magnolia website. 
5. Pesto Vegetable Pizza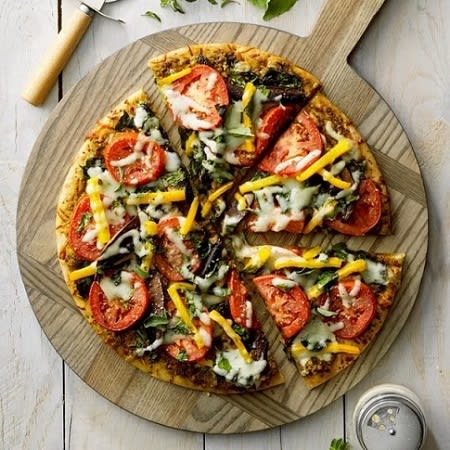 If Friday night pizza is a favorite ritual in your family, you won't want to miss Taste of Home's contest-winning recipe for pesto vegetable pizza.

This pizza recipe has been test kitchen approved not only for its yummy taste but for its easy-to-follow directions for the home cook. For a fun family or date night activity, put on some Italian music while you create your pie using premade pizza crust or making your dough from scratch.

Choose from a selection of optional toppings for a customizable pizza pie. Colorful veggies, basil, and a scattering of cheese will feed your senses before you even take a bite.
*Image courtesy of the Taste of Home website.
6. Lemon-Dijon Pork Sheet-Pan Supper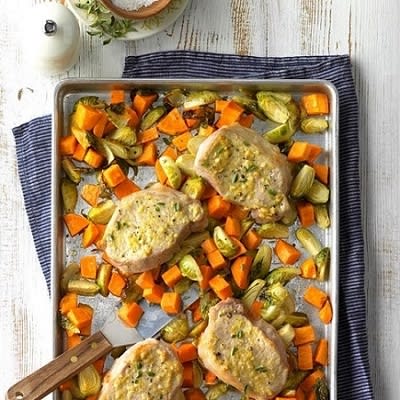 Oftentimes, the least appealing part of mealtimes is washing the dishes. Who wants to clean a mountain of dirty pans at the end of the night? Take a cue from Taste of Home's lemon-dijon pork sheet-pan supper and use only one pan to prepare your main and sides and enjoy an easy cleanup!
Ready to eat in less than an hour, this meal requires only three main ingredients and some whisking and chopping before throwing the pan in the oven. The recipe also includes suggestions for cutting the brussel sprouts and sweet potatoes, ingredient swap-outs of different flavors, and the best kitchen utensils to use. The inclusion of sweet potatoes provides an excellent source of vitamin A, while the brussel sprouts are packed with vitamin K.

* Image courtesy of the Taste of Home website.


7. Loaded Sweet Potatoes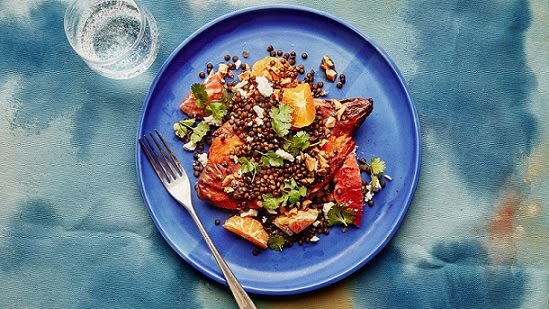 Think sweet potatoes are just a one-note side dish? Think again! Bon Appetit's loaded sweet potatoes recipe is filled with diverse flavors and textures for a unique break from your everyday meals.

Bon Appetit's 2020 Feel Good Food Plan offers fresh, fun lunch and dinner recipes. Taste a little sweet, a dash of salty, and touch of spicy all wrapped into one satisfying dish with the flexibility to add, subtract, or modify ingredients based on your preferences or what's available in your pantry.
*Image courtesy of the Bon Appetit website.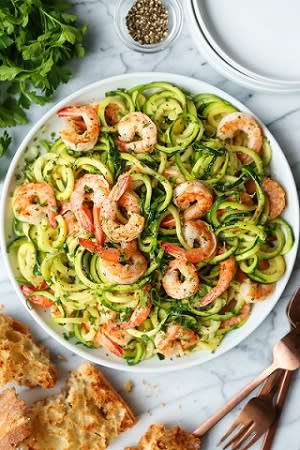 8. Garlic Butter Shrimp Zucchini Noodles 
If you're craving the comfort of a warm bowl of pasta, try this lower-carb option that won't leave you needing a long nap afterward: Garlic butter shrimp zucchini noodles by Damn Delicious.

Food blogger and recent Midwest resident, Chungah Rhee, focuses on "using simple, fresh ingredients and transforming them into sophisticated and elegant meals for the everyday home cook."

Her zucchini noodles topped with mouthwatering garlic butter shrimp are ready in less than 30 minutes. The powerful combination of garlic, lemon, parsley, and salt and pepper with the protein of pan-seared shrimp and nutritious zucchini noodles should be added to your weekly meal prep ASAP!

*Image courtesy of DamnDelicious.net.

​​​​​​​9. Tortilla Soup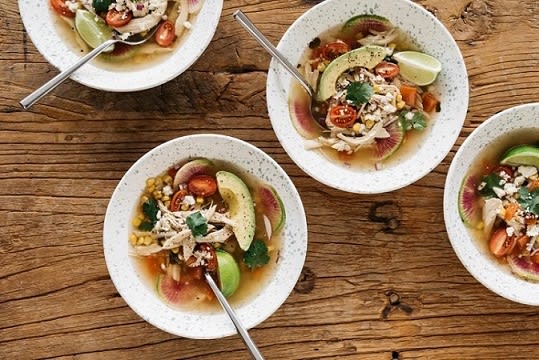 If you're feeling a little under the weather or pining for a toasty, comforting meal, Magnolia's tortilla soup is perfectly paired with a cozy night of reading, playing board games, or watching movies.

This recipe is flexible and meant to be customizable to personal tastes and whatever you can find in your pantry! Wholesome yet familiar ingredients, such as pulled chicken, corn, vine-ripened tomatoes, and rice, make this soup appealing for both adventurous and more cautious eaters.

The base of the soup is simple to make and allows for the addition or subtraction of toppings to fit even the pickiest of palates. From cotija cheese and sliced watermelon radishes to Mexican crema, lime wedges, and crispy tortilla strips, your soup is sure to look and taste scrumptious!

Check out Magnolia's homemade tortilla and Mexican crema recipes for soup and toppings made completely from scratch!

*Image courtesy of the Magnolia website.



10. Fudgy Avocado Brownies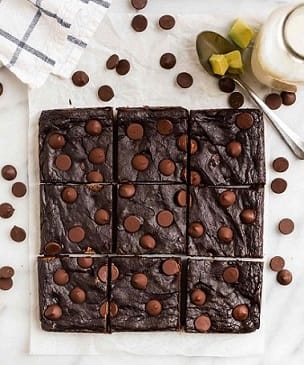 Meals aren't complete without a touch of chocolate! The avocado brownies by Well Plated by Erin prove that even dessert can be healthy and satisfy your sweet tooth at the same time.

This quick and simple recipe is gluten-free and made with wholesome ingredients, but even the most discriminating chocoholic will never notice the difference. These brownies are fudgy and chocolaty!

The key ingredient for the gooey texture is avocado, which also adds healthy fats without changing the deep cocoa flavor. There are lots of tips and tricks included with the recipe that allows you to incorporate healthful ingredient swaps, create a vegan version of the dessert, or add natural sweeteners.

The brownies can be made in only four steps, and can be stored in the refrigerator for up to one week or in the freezer for up to four months!

*Image courtesy of Wellplated.com.


Interested in additional information on healthy food options in the Detroit area? Contact Pam Stoler today. With over 35 years of experience, Pam is an expert in Detroit area neighborhoods and can answer any questions you have about local communities. Whether you're looking for Birmingham, Michigan, homes for sale or Bloomfield Hills real estate, Pam Stoler and her team's expertise can help you find the ideal piece of Southeast Michigan luxury real estate.